storing master password in roboform
Website last updated: Saturday April 27, 2019
If you have a newer version of Roboform, storing the master password is even easier. Please click here for details.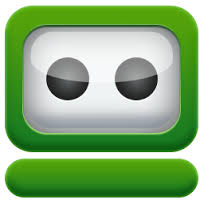 Roboform is a great password manager that I have used for many years. It not only remembers login details but also generates passwords and automatically logs into your favourite websites for you. The on-line version, which costs a little more, stores all your passwords on line so that they are accessible through any computer.
The whole lot is protected by a master password which is fine but that very fact used to cause me a lot of annoyance since often it would ask me for my master password before it would do anything. Heaven help you if you forget it because Roboform can't get it back for you!
My thanks to Siber Systems for this great workaround. First click on the Roboform program icon either in the Windows taskbar on the right hand side or with your browser open, on the drop down arrow next to the Roboform icon on the left hand side of the browser menu bar. The following menu will open: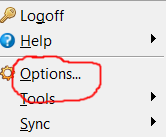 Click on the options menu shown here on the left and click on the security section. Now tick the box that says "Store master password in system protected storage" and Roboform won't ever ask you for your master password again. It goes without saying that yo should only do this if no one else uses your computer.